WALKING IN THE OLD PATHS
Jeremiah 6:16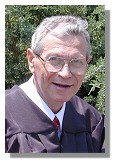 Crutches and Heart Transplants
His bitter countenance hardened to a sneer when I informed him that I was a Christian.
"Christianity," he snapped," is only a crutch for weaklings".
His eyes flashed hate against his Maker as he repeated this old tattered and silly platitude. It was obvious that rage was rolling and boiling within his innermost being.
What should I say in reply? Perhaps I could remind him that the sinner is lame and blind and in need of help and assistance on lifeís great journey. I could go on to say that Christ alone is able to support the morally lame and guide the spiritually blind. However, such an answer would have been inadequate and misleading.
It is indeed true that unregenerate man is "poor and lame and blind" and therefore, unable to walk uprightly and in a straight path before God Who is holy, righteous and just. But manís disease, in a spiritual sense goes far beyond the darkened eyes and the deformed feet. Both his sinful sickness and his spiritual penury are merely symptoms of a far more serious malady. Isaiah, the prophet wrote, "...The whole head is sick, and the whole heart faints. From the sole of the foot even unto the head there is no soundness in it, But wounds and bruises and putrefying sores;...". (Isaiah 1:5,6) The sickening symptoms of this disease are vividly pictured for us by the Apostle Paul in Romans 3:10-18:
"There is none righteous, no, not one;
There is none who understands;
There is none who seeks after God.
They have all turned aside;
They have together become unprofitable;
There is none who does good, no, not one."
"Their throat is an open tomb;
With their tongues they have practiced deceit;"
"The poison of asps is under their lips";
"Whose mouth is full of cursing and bitterness."
"Their feet are swift to shed blood;
Destruction and misery are in their ways;
And the way of peace they have not known."
"There is no fear of God before their eyes."
This may sound awful, but remember it is Godís diagnosis of the problem, and men left to their own devious devices will soon manifest such terrible conduct as that described. We only have to read of the acts of men in recent history to confirm the truth of it. Even the behaviour of "civilized" troops sent to keep the peace in war torn lands attest to the facts of scripture.
Man does indeed seek out and use many devices to support himself as he travels through life. Indeed these props may appear to be of some help for a time, but by and by they crumble and break when they are most needed. These supports give a false sense of security and will be of no help at all when the poor forsaken soul stands before the Last Great Assize. These crutches have various names. A few examples are: socialism, humanism, atheism, psychology, religion and entertainment to name but a few. They all have some things in common. For example, their place of manufacture was Hell and their designer was the archenemy of souls. His name is Satan. They are among the many and diverse tools which he uses to blind men to their personal depravity and to the real cause of the present distress of nations.
When God reaches down and imparts saving faith to a poor sin sick soul, He does much more than provide a crutch. He performs a spiritual Heart Transplant.
I will give you a new heart and put a new spirit within you; I will take the heart of stone out of your flesh and give you a heart of flesh. I will put My Spirit within you and cause you to walk in My statutes, and you will keep My judgments and do them. (Ezekiel 36:26,27 NKJV)
As the new heart is thus given in grace, the unsoundness of the head is also dealt with. "For from within, out of the heart of men, proceed evil thoughts, adulteries, fornications, murders, thefts, covetousness, wickedness, deceit, lewdness, an evil eye, blasphemy, pride, foolishness. All these evil things come from within and defile a man." (Mark 7:21-23 NKJV)
To the one who calls Christian faith a crutch we can confidently answer, "It is not merely a crutch to the lame. Rather it is a spiritual heart transplant which never fails." The recipient of such a new heart as God gives will never die spiritually for he has eternal life.
Oh, that sinners may be moved to cry with Israelís king David "Create in me a clean heart, O God and renew a steadfast spirit within me." (Psalm 51:10 NKJV). Those who do this, trusting in Jesus Christ and His redeeming work on Calvary will receive new hearts and will become new creations in Christ. "Therefore, if anyone is in Christ, he is a new creation; old things have passed away; behold, all things have become new." (2 Corinthians 5:17) This truly describes the experience known as the new birth. Those who have truly experienced it no longer need crutches for they are enabled to "walk in newness of life."
Beloved reader, have you received this divine surgery? You donít need to have your name put on a waiting list. God now calls sinners to repentance and faith in His Son the Great Physician of souls.


Jack Scott loved his Lord! He passed away on January 10, 2001 after a lengthy illness.
He is missed greatly by his family.


Next "Walking in the Old Paths" > The Old Guide Book >
Back to < "Walking in the Old Paths Index" <


---

[Home]
[Purpose]
[Policies]
[Devotionals]
---
Contact...Christian_Photographers@rogers.com