John A. Scott ("Jack")
April 14, 1935~January 10, 2001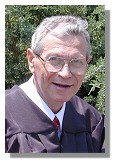 On April 14th, 1935, John Alexander Scott who was affectionately known as "Jack" to his wife and close friends, was born in Belfast, Northern Ireland. At the age of 13, after a lengthy talk with his father, he placed his trust in the Lord Jesus Christ for salvation. His relationship with his Lord has grown continually ever since.
When Jack was 20, he joined the Royal Ulster Constabulary. Four years later, he was led to go to Belfast Bible College and then crossed the Atlantic to attend Toronto Baptist Seminary. There he met Patricia Joan Stephen and in May of 1961, they were married. In 1962, after a bout of homesickness for the "Auld Sod", they left Canada by ship and sailed across to Northern Ireland to live. Upon his return to his native land, he rejoined the RUC. And during his service with the Police, he was assigned to some of the toughest districts during some of Ulster's troubled times.
The first two children, Ian Hugh and Janice Elizabeth, were born in Northern Ireland. Then it was Pat's turn to become homesick and they returned with their two wee bairns to Canada where their third child, Andrew Gordon McDowell was born.
As a youngster growing up, John loved to walk and hike through the mountains and hills of Northern Ireland as well as fish many rivers and lochs. These were passions that would remain with him for the rest of his life and many today, including his children and grandchildren have wonderful memories of walking, fishing, and enjoying outdoor pursuits with John. After moving to Guelph, Ontario, John held the office of President of the Guelph Hiking Trail Club.
After immigrating to Canada, John used the skills and training he had received in Northern Ireland to provide policing services to Vaughan Township Police Force, and then to the Community Guardian Co. Ltd., where he was employed in the capacity of "Social Policing" within Toronto's housing projects. Eventually, John's interest in Safety led him to employment with the Industrial Accident Prevention Association where he remained for about 20 years, until poor health forced an early retirement.
He was well loved by both friends and family, and the memories he has provided them will always remain. The values that he strived to live by will always be a good example for others. He will always be remembered as a loving husband to his wife; and a loving father to his children. His rare abilities to listen and provide wise guidance with his wonderful sense of humor will be sorely missed. His family will long have the memory of Jack, grinning impishly, pretending to play a penny whistle as his son Andrew and grandson Alex played their trumpets, just 10 days before his death.
A deeply spiritual man, John would often share his faith in Jesus Christ with others and was always willing to offer some encouragement during times of distress or need. He was often invited to preach to Church congregations. Throughout his life, Jack's love for his Lord was the most important thing to him and every morning he could be seen reading his Bible and praying to his heavenly Father. He offered up intercessory prayer daily for his family and friends. Whenever the opportunity arose, he spoke lovingly and reverently about his Lord and Savior. His desire to the end was that his children and grandchildren come to love and trust in the Lord Jesus Christ.
Jack wrote several devotionals entitled "Walking in the Old Paths" for the purpose of spreading God's Word and sharing the love of Christ with others. The last of these was found the day after his funeral service by his wife and neice and it was entitled, "The Weeping Woman". These devotionals can be read here.
Redeemed!