WALKING IN THE OLD PATHS
Jeremiah 6:16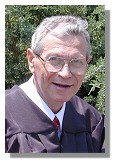 The Shepherd's Psalm —Part (v)
The Lord is my shepherd;
I shall not want.
He makes me to lie down in green pastures;
He leads me beside the still waters.
He restores my soul;
He leads me in the paths of righteousness
For His name's sake.

Yea, though I walk through the valley of the shadow of death,
I will fear no evil;
For You are with me;
Your rod and Your staff, they comfort me.

You prepare a table before me in the presence of my enemies;
You anoint my head with oil;
My cup runs over.
Surely goodness and mercy shall follow me
All the days of my life;
And I will dwell in the house of the Lord
Forever.
Not far from the city of Guelph, in the valley of the Eramosa River, nestles a neat little hamlet of rough hewn houses. By Ontario standards, this pretty little place is quite old. Although there is no need for me to do so, I occasionally drive through this sleepy place on my way to or from our local major highway.

Who were the first settlers? What was their life like? What were their aspirations and hopes, joys and sorrows? To try to find an answer to these and other intriguing questions, I decided one day, a few summers ago, to explore the necropolis that surrounds the hamlet's only church. I found that the mortal remains of several generations of Presbyterians lie awaiting the resurrection morning beneath the cold clay. Well kept tomb stones declare their names, and in some cases their faith in the Saviour of sinners. A few of the head stones record something of their long forgotten lives and exploits.

One old block of granite records that the two interred beneath were born in the north of Ireland in the last century, married there and emigrated to this part of the world. Underneath the descriptive words, a verse of Scripture is quoted:

"These are they which came out of great tribulation and have washed their robes, and made them white in the blood of the Lamb. Revelation 7:14"

As I read this inscription a lump seemed to form in my throat and a wee tear appeared in the corner of my eye.

Probably I shall never know this side of eternity what this couple suffered. The heartaches they felt, the broken dreams, sadness, pain or penury they endured as they struggled on in a new land are now veiled in history. The vicissitudes experienced in a harsh environment are not etched in the dark grave stone. The words "came out of great tribulation" can only point back to excessive trial and hardship; to dark days and desperation.

When the Psalmist said: "Yea, though I walk through the valley of the shadow of death" (Psalm 23:4), he must have had some awful tribulation in mind. Days of dark despair and drowning disappointment had been his lot.

The old Jewish Targum interprets Psalm 23:4 to be a prophetic reference to the horrors of the Jewish captivity in Babylon, while Aben Ezra says it speaks of grievous calamities.

John Gill, in his commentary, explains it this way: "Afflictions attend the people of God in this life; there is a continued series of them, so that they may be said to walk in them; these are the way in which they walk to heaven, and through which they enter the kingdom; for though they continue long, and one affliction comes after another, yet there will be an end at last; they will walk and wade through them, and come out of great tribulations."

Perhaps you, my friend, are experiencing great tribulation. Do you see yourself as captive to circumstances? Do you know what it is to suffer deep affliction? Do you feel deserted and alone? Does trouble come upon trouble like the rolling of mighty waves at high tide against a storm tossed ship, near a rocky shore. Then the rest of this verse is meant for you if you are one of the sheep of the Lord's flock:

"I will fear no evil; For you are with me; Your rod and Your staff, they comfort me."

If we know the Good Shepherd; the one who gave His life for the sheep, we need not fear the evils of time and circumstance. He is Sovereign in all His ways. He knows our every need. He has experienced while walking as a Man among men the heartache, sorrow and trials common to humankind. If we understand His Sovereign power as God Eternal, and His sympathy as our High Priest, we will be enabled to declare with King Solomon, "The name of the Lord is a strong tower; The righteous run to it and are safe." (Proverbs 18:10 NKJV).

There is an old much loved hymn based on Psalm 31:15:

My times are in Thy hand;
My God, I wish them there;
My life, my soul, my all, I leave
Entirely to Thy care.

My times are in Thy hand;
Whatever they may be;
Pleasing or painful, dark or bright,
As best may seem to Thee.

My times are in Thy hand
Why should I doubt or fear?
A father's hand will never cause
His child a needless tear.

My times are in Thy hand,
Jesus, the Crucified!
The hand my many sins have pierced
Is now my guard and guide.

My times are in Thy hand,
Jesus, my advocate!
Nor can that hand be stretched in vain
For me to supplicate.

Yes, He is with us all the way, not only in the coveted "Mountain top experiences" but also in the dark and dismal valleys of despair and death.

Our dear Shepherd is always armed with two implements: "His rod and His staff". In old times the rod was used to defend the flock from wild animals and thieves, and one day He will use that rod on the enemies of truth and Zion's King will be seen to reign in righteousness. We who are His elect own His royal rule in time. In eternity His Kingship and glory will also be manifested to those who hate Him. They, too, will recognize Him but, oh, too late! Even now He uses the rod to defend His believing people from dangers both seen and uncomprehended.

The second implement He carries is the staff, the purpose of which was to direct the sheep. Sometimes the sheep would rather go their own way but have to be forced to travel in paths that lead them safely home. Their path of choice would lead to places of danger and ruin, but the path of the shepherd's choosing leads to the peace and security of green pastures and the still waters.

Well may we with David pray, "Uphold my steps in Your paths, That my footsteps may not slip." (Psalm 17:5 NKJV).

Let's retrace our steps to the old grave yard and take one more look at the stone which held our attention. Let's read the last part of the inscription once more "and have washed their robes and made them white in the Blood of the Lamb". Only those on the pilgrimage of life who have washed their robes in the blood of Calvary's Lamb will come safely through. None of those who are "blood washed" will ever perish. That is why they can say "I will fear no evil".

Have you been to Calvary's fountain and have you by faith been cleansed of your sin? If the answer is "Yes", then you have the Royal right to appropriate the words of Psalm 23:4 "Yea, though I walk through the valley of the shadow of death, I will fear no evil; For You are with me; Your rod and Your staff, they comfort me. If you are His by sovereign grace, then God, the Holy Spirit inspired the Psalmist to write these words for your blessing, reassurance and comfort.
---


Jack Scott loved his Lord! He passed away on January 10, 2001 after a lengthy illness.
He is missed greatly by his family.

Next "Walking in the Old Paths" > The Shepherd Psalm--Part (vi) >
Back to < "Walking in the Old Paths Index" <



---

[Home]
[Purpose]
[Policies]
[Devotionals]
---
Contact...Christian_Photographers@rogers.com